You are here: >
Home
>
event
[event]Christmas Eve Event
[2016-12-18]
Christmas Eve Event
Duration: 16/12/2016-29/12/2016
1.

Login Rewards: Every time you login you can claim generous rewards.
1)

Please claim rewards during the specified period. If you take too long, you won't be able to claim them.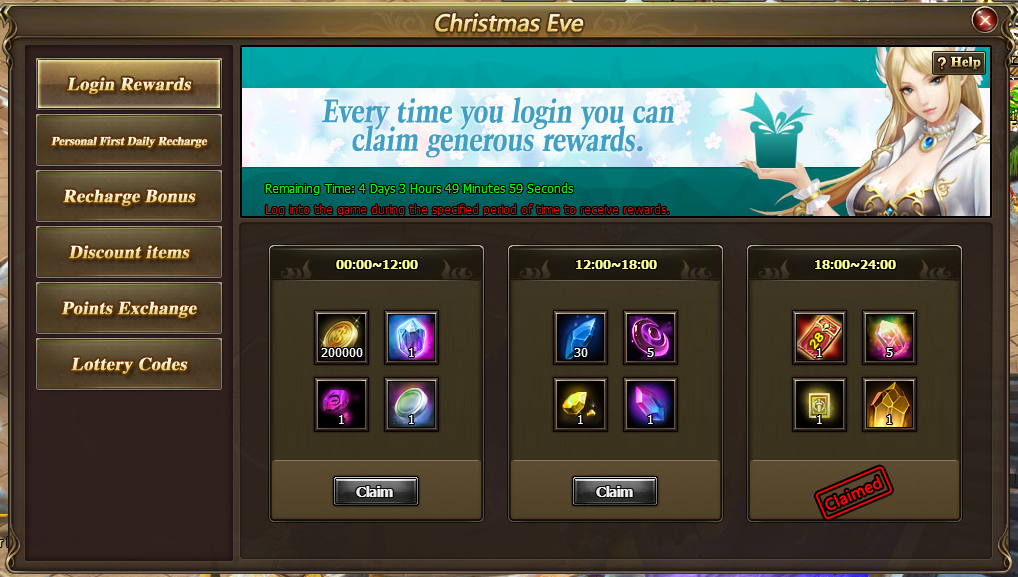 2.

Personal First Daily Recharge: Recharge $1.99 every day to receive a purple talent card.
1)

Accumulatively recharge 200 Balens every day to claim the rewards.
2)

After the daily recharge you can spend 200 Recharge Balens to buy valuable items. Only available once every day.
3)

Accumulatively the completed days to claim extra rewards.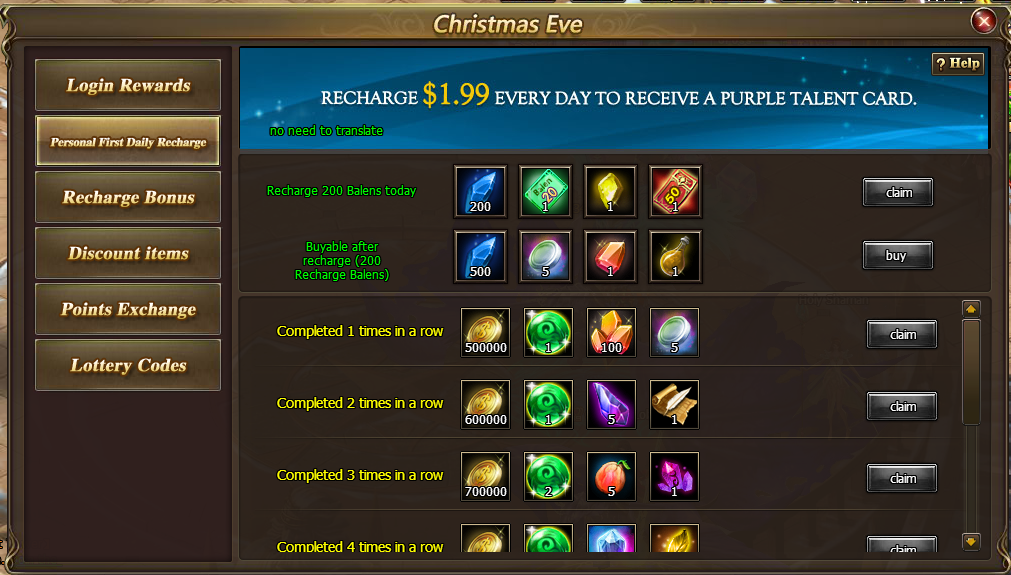 3.

Recharge Bonus: Recharge to receive Dragon Medals
1)

During the event, recharge a specific amount of Balens every day to claim the corresponding rewards.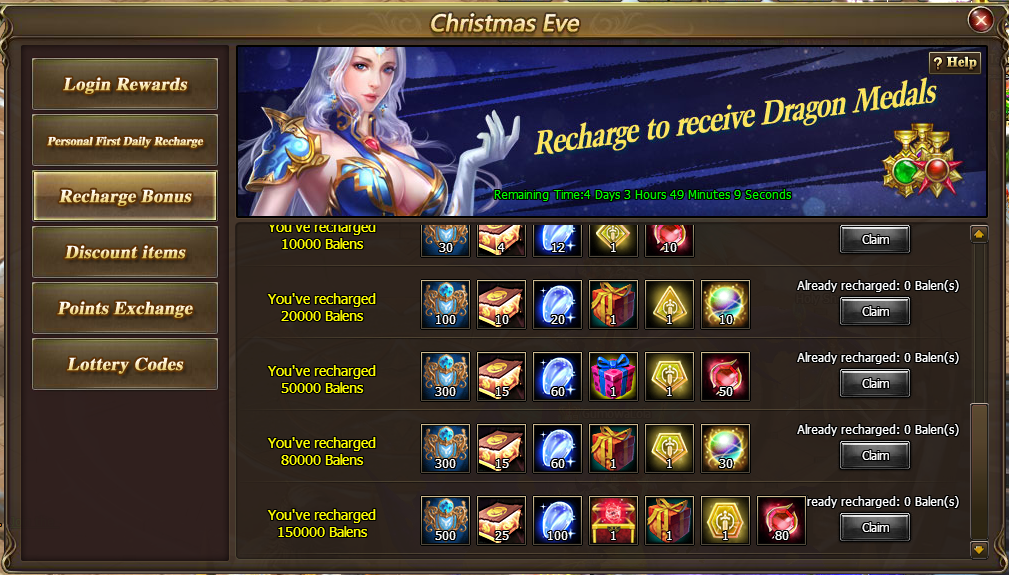 4.

Discount items: Christmas Time-limited Sale.
1)

During the event, you can buy the rare items for a low price.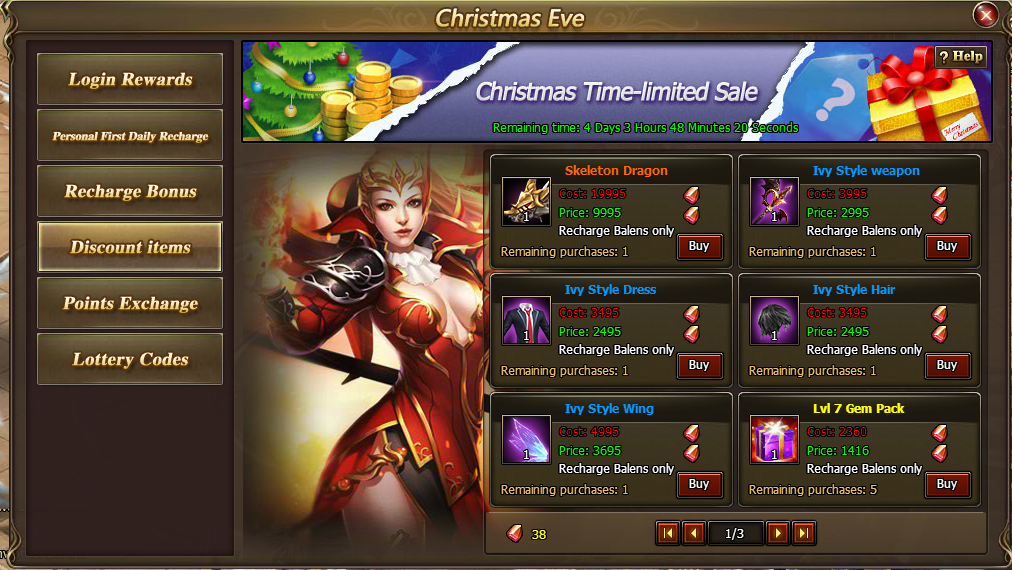 5.

Points Exchange: Collect points to exchange for great rewards.
1)

During the event, players can receive 1 Recharge Points every 10 Balens recharged. Exchange items consumes Recharge Points and your points won't be cleared during event.
2)

They will be cleared after the event is over.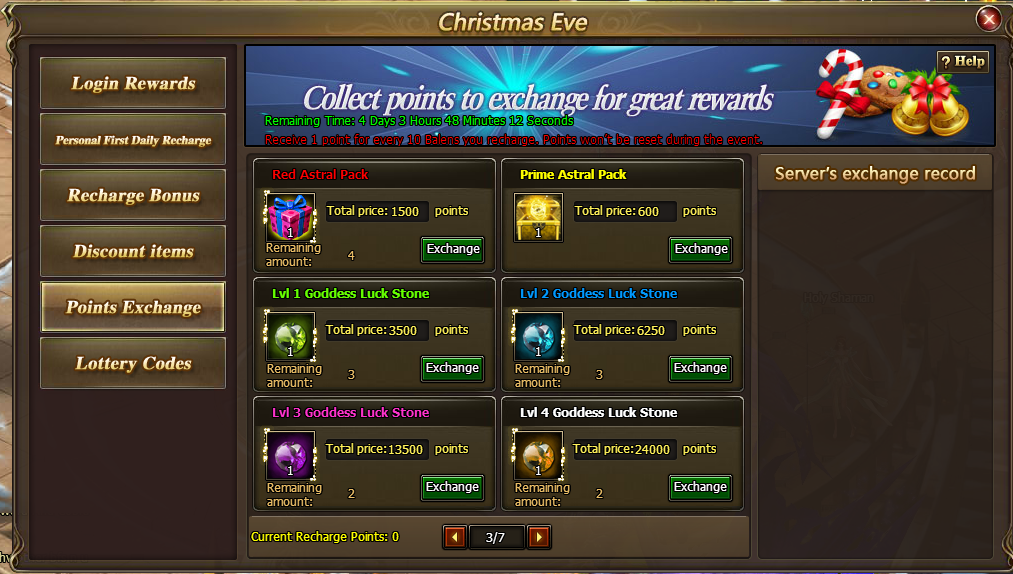 6.

Lottery Codes: Consume Recharge Balens for lottery tickets.
1)

During the event, players can receive 1 Exchange Code for every 100 Balens Recharged.
2)

Once activated, the Exchange Code will automatically join you in the current announcement round of winners. You can check whether you're a winner Exchange Code panel.
3)

During the event, the winner list will be announced daily at 12:00, 18:00 and 23:50.
4)

When the event ends, unclaimed rewards will be sent by mail. You will get 10 Rewards Balens from every unactivated Exchange Code.