You are here: >
Home
>
news
[news]Endless Sea
[2017-03-07]
A brand new game update has been added to Legend knight! You may have joined the Endless Sea events and wanted to explore its new resources! To give you a better experience, we would like to share with you a brief introduction of what Endless is all about!
Endless Sea unlocks at Lv. 80.
Challenge Buttons: Different monsters according to three difficulties.
Destiny Power: 9 skills available. Required Astral points will be shown below each skill.
Blitz: (Only applies to 'Hell' difficulty) Win without fighting and get rewards directly.
Round Info: Waves of monsters and skill names of each boss.
Fortune Chest Button: Click to open the Fortune Chest interface where Chest Points are shown.
King of Endless Sea Button: Click to open the King of Endless Sea (Ranking) interface.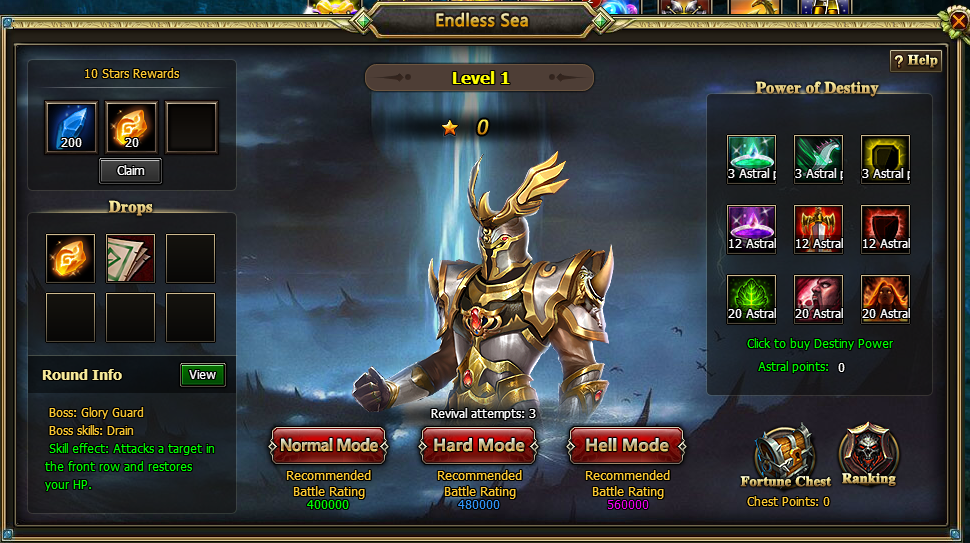 Click one of the three monster buttons to challenge. Win to receive rewards and enter the next checkpoint.
Automatic revival when you lose. You can challenge again.
The event ends when you lose three times. A note will pop up informing you there are no challenge attempts left.
When you clear all the checkpoints, the interface will display 'All cleared' on the Boss' avatar.
Checkpoints will reset every day at 00:00. You will have 2 revival attempts per day.
Chests will appear when you clear every 5 rounds.
Once the player resets, Astral points and Star Level will be cleared. Revival attempts will reset to 2.
Monster info will also reset.
Rewards include items, Astral points and Star Level.
Rewards vary in each difficulty.
Astral points and Star Level are the same in different rounds of the same difficulty.
Astral points are used to buy Destiny Power. Accumulate Star Level to claim Star Level rewards.
Destiny Power will only be effective in one battle. If you lose, the consumed Astral points will be returned.
Destiny Power can be stacked. But you can only buy one of each kind.
Destiny Power of the same kind can be effective at the same time.
Destiny Power is effective to all allies.
There are nine kinds of Destiny Power.
Chest Round will appear for every 5 rounds.
Claim Chest: Claim to get a normal reward. Use Reward Balens to claim extra rewards.
Claiming times of each round will be accumulated. When they reach a certain amount, you will receive rare rewards.
Claiming times of each round will be cleared when you receive rare rewards or when reset.
Use Chest Points to open Chests.
The wheel has eight random rewards drawn from chests.
Click GO! to spin the wheel and win a random reward. You can only spin once. When your Bag is full, the reward will be sent by mail.
If you close the wheel interface without spinning the wheel, the system will spin it for you and you will still get a reward.
The rounds you can Blitz are equivalent to your winning streak in 'Hell' difficulty the day before minus 5. For example, if you cleared 17 rounds in a row yesterday, you can Blitz to Round 12 today.
Win without fighting and get rewards directly.
Blitz to receive rewards directly.